Coen Crisp
Coen Crisp is a poet from North Carolina. Much of his work is steeped in his North Carolina roots; a collection of his work, 575, is a series of haiku based on his experiences as a transgender male navigating the South. In addition to other works, he will be using the residency to complete Southern Shorts, a collection of poems written through a life of observation from the front porch swing, ringed with sweet tea stains and cornbread crumbs.
Tiffany McKiver
Paper 2 Film's mission is to provide a film technology program for student ages 12 to 17 allowing them to tell their stories while educating them on the fundamentals of developing and writing original script for film. This program is designed to give students a creative outlet while honing communication skills in film technology.
 
Paper 2 Film is looking forward to the opportunity to produce short films and commercials in a professional artistic environment. The Paper 2 Film team looks forward tocollaborating and networking with other artist. Being around different cultures will allow them to capture different perspectives and tell different stories through the lens of the camera.

Watch the trailer HERE.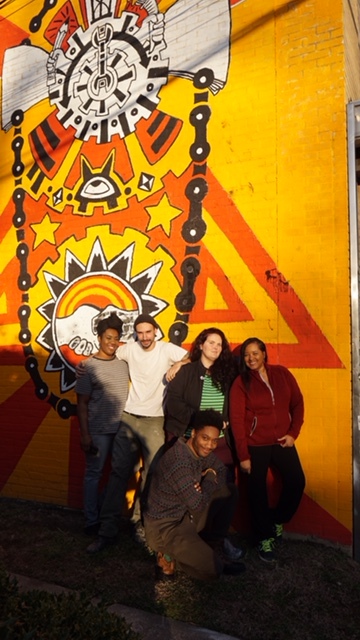 Greensboro Mural Project
Founded in 2011, the Greensboro Mural Project is an arts organization that engages the people of Greensboro in the process of creating murals through dialogue across the community. The Greensboro Mural Project uses public art as a tool to communicate, record history, and make Greensboro more beautiful. A philosophy that we bring to our work, "Building Bridges by Painting Walls," means that beautiful, co-created shared space helps to break down barriers between people. These barriers are social, cultural, political, etc. The process of creation fosters powerful connection, connection we want to encourage in all, so we provide opportunity to anyone who wants to help not just those with artistic talent. We facilitate access to creating art and to viewing art publicly for all residents of Greensboro.

www.greensboromuralproject.com
@gso_murals
Kori Sergent
"A feministic approach to the psyche and paint pallet," best describes Sergent's work. She is a feminist at large and a painter/mixed media artist. Her work speaks to societal pressures and experiences of the female psyche and body. Her goal is, and has always been, to be a vessel for the diverse female psyche. During her AIRREV residency, she hopes to get back to larger mixed media pieces that can attempt to express the universal ties that bind us as female.
 
Sergent's roots can be drawn through all territories of the United States. Yet, Knoxville, Tennessee will always be her home. She studied general psychology and art at East Tennessee State University and then moved to North Carolina and has been living in Greensboro for two years.
Lavinia Jackson
My intention is to give voice to the intersectionality of poverty, homelessness, veteran status, and disability and the lived experience of being black.

Poetry boxes marry two expressive media: poetry and visual art. They create a call and response between two artists. These boxes are self-defined spaces, created by black voices, addressing what it feels like to be marginalized, as a black girl, black boy, black man, black woman. These boxes highlight the necessity of creativity, relationships, and community. By partnering with local artists, poets, and smaller, black-owned non-profits, my work will demonstrate how the voice is amplified when more are gathered together.
Larry Wright
Larry Wright has written, produced, and directed, films, theatre plays, talk shows, and documentaries. He has executive produced independent shows that aired locally on ABC, My 48, and The CW Television Network. He has also written and published the book titled Three Shorts and a Play and is the owner of Pitchvine Entertainment, LLC, a local film production company. During the summer, Wright and his business partner Tiffany McKiver run a film program, From Paper 2 Film, which teaches young men and women from all income levels the art of writing, acting, producing, and shooting a film.
AirRev Artists
Meet our artists-in-residence. Each accomplished in their own right, this group of artists and artist collectives makes up our AIR residency program.
Click on each picture to learn more about the artist or click here to learn more about AIR Artist Residency.